Dear customer, friend and partner,
The MNE 2021 conference (https://www.mne2021.org/) is happening this week and we are pleased that we be a part of it again! micro resist technology is not only a committed Silver Sponsor to promote micro- and nano-engineering in Europe and around the globe. We are also the Official Sponsor of the MNE Fellow Award 2021 that is given to Dr. Anja Boisen (Technical University of Denmark).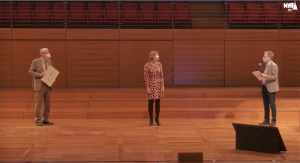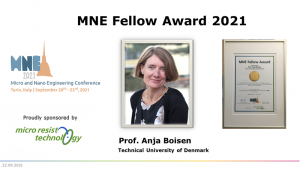 We may also draw your attention to our scientific contributions at this year's conference. Our fellow colleague Mirko Lohse will be giving the talk "Novel Concept of Micro Patterned Micro Titer Plates Fabricated via UV-NIL for Automated Neuronal Cell Assay Read-Out" on Thursday morning 23rd of September during the Session A6: Technologies for organic/biological matter. Another contribution will be given by Susanne Grützner presenting the poster "Two-step replicated Nano Optical Pattern on curved Surfaces for Spectrometer Components" - PA47 on Tuesday 21st of September in the afternoon.
The best chance to get in touch with us - visit us at our Virtual Booth in the online exhibition to learn about our new material developments!
In the run-up to MNE Conference the Workshop on Maskless Laser Lithography & Direct Writing for Nano- and Microfabrication took place. We are co-organizer with Heidelberg Instruments, GenIsys, and Multiphoton Optics. The participation was possible both directly at Lingotto Convention and exhibition Center or virtually. Our Colleague Christine Schuster let us deep dive into the "Insights in photoresist chemistry for gray scale lithography".
Your MRT Team