mr-NIL212FC – Our latest product for UV nanoimprint lithography
micro resist technology GmbH is pleased to present a new product in the field of materials for nanoimprint lithography: mr-NIL212FC.
mr-NIL212FC builds on the outstanding properties of the already very successfully established mr-NIL210 series and thus expands with additional characteristic features the range of applications of the soft UV-NIL. The decisive performance characteristics of this new product are, on the one hand, the noticeably increased stability in plasma etching processes, which is particularly relevant for the transfer of nanometer structures into oxidic substrates, as well as the significantly improved curing kinetics, which enable complete curing of the formulation in the presence of atmospheric oxygen even with low-power light sources (< 20 mW cm-2). Thus, mr-NIL212FC meets all the requirements that are placed on a product for industrial mass production. mr-NIL212FC is offered as a ready-to-use solution for layer thicknesses of 100 nm, 200 nm, or 300 nm, which can be produced by spin coating.
Notable core properties of mr-NIL212FC compared to other products:
Excellent stability in plasma etching processes
Fast curing even with low power exposure
Excellent liquid thin film stability and thin film quality
Outstanding compatibility to flexible stamp materials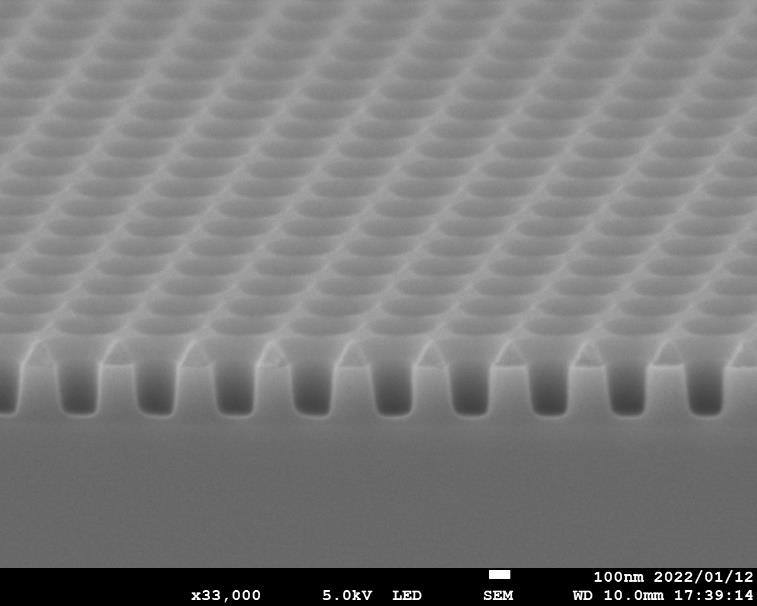 Picture: Pattern transfer with mr-NIL212FC of imprinted 200nm AR1 holes into SiO2 by plasma etching with a selectivity of 2.25.